Substance Use Disorder Treatment
Complete the form and a treatment advisor will contact you at the number provided.
By submitting this form, I am providing express written consent to contact me by SMS at the phone number provided.
Effective Substance Use Disorder Treatment Programs
Achieve Freedom From Your Addiction With Our Substance Abuse Treatment Programs. 
Get on the Path to Recovery With New Life Recovery Center
Drug and alcohol addiction can take a toll on a person's life. We work closely with our clients and their families at New Life Recovery Center. We aim to help everyone heal their spirits, minds, and bodies. 
We offer various addiction treatment programs tailored to our client's needs. Once we've completed our client's initial intake assessment, we're able to recommend what level of care best suits their needs.  
Are you ready to start your journey toward freedom from your addiction? Contact us today to learn more about our substance abuse treatment programs.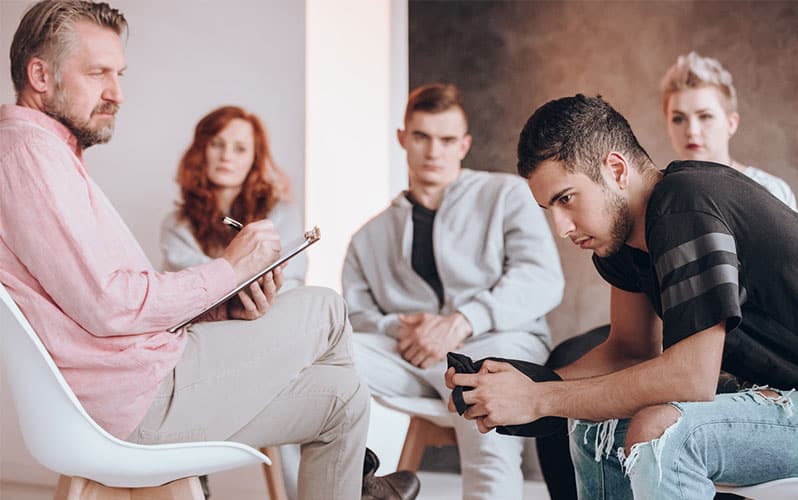 Learn More About Our Substance Use Disorder Treatment Assessments
Recovery from addiction can start with admission to a licensed addiction treatment facility. To enter into a program at a facility, the first step is to verify your insurance. The information needed is full name, date of birth, insurance carrier and insurance ID number. Once your insurance is verified we enter you into the computer. The additional information we take is your address, emergency contact, a brief medical history and any allergies, email and phone number.
Once your information is in the system we schedule an substance use disorder addiction treatment intake assessment. The assessment is used state wide, it is a standard list of questions that you and the counselor work through in order to start you on your road to recovery. It gauges your level of addiction. It is sometimes referred to as a bio-psycho social assessment. This usually takes about an hour. In addition to the assessment two other components are needed for you to start your recovery program. Paperwork and a Urine Drug Screen. We email you a link to an online portal where you can read and digitally sign off on all the paperwork. Urine Drug Screens can be done at the time of the assessment or at one of our weekly scheduled times. Monday 5:30PM to 6:30PM and Saturday 9:30AM to 10:30AM at the office.
Upon completion of your assessment a recommended level of care for your addiction is determined. Whether you are assessed at an inpatient or outpatient facility the assessment is the same. Typically if you are being assessed for drug and alcohol addiction at New Life Recovery Center, your level of care will result in Intensive Outpatient Program or  Substance Abuse Treatment . If you needed Detox or inpatient treatment for your addiction that would have been determined when you initially contacted us. Alternately, you may assess for only individual sessions. Regardless, once the assessment is over and your level of care is determined you will start the appropriate program.
Our Substance Abuse Treatment Programs
At New Life Recovery Center, we offer multiple treatment options. The treatment option a client gets depends upon their addiction levels. 
Our levels of care include the following programs:
All of our treatment programs incorporate cognitive behavioral therapy for addiction. That modality is coupled with motivational interviewing to help put our clients on the path to success. 
Step Two: Come in for Your Assessment
We'll schedule your substance use disorder treatment intake assessment as quickly as possible.
Step Three: Start Your Recovery
Our staff is here to guide you through every step of the way. 
Hear What Our Clients Have to Say
"New life provides a great program that encourages openness and growth in a safe environment. Elisa is a wonderful counselor who is easy to connect with and has invaluable, real-world experience. Highly recommended!"
Ernie  
Why Choose New Life Recovery Center
Since 1991, New Life Recovery Center has been offering addiction treatment services in New Jersey. We aim to provide our clients with compassionate care. We welcome them into a safe environment where they can overcome their addictions. 
Our staff strives to provide our clients and their families with healing, long-term recovery, and hope. We want to restore our clients while helping them overcome their chemical dependencies. When our clients have completed their programs, they'll have developed healthy coping skills and a support system for continued recovery. 
Schedule Your Substance Use Disorder Treatment Assessment
New Life Recovery Center is here to help you overcome your drug or alcohol addiction. Contact us today to learn about our substance use disorder treatment assessment and programs. 
Your New Life to Recovery is Only a Step a Way
Most Insurances and Medicaid Accepted!
We accept most major insurance carriers. If we don't accept your insurance, we will refer you to another provider who does.
Get the help you need now from our experienced
professional counselors. Call us from 9:00am until 9:00pm Monday, Wednesday & Thursday or
9:00am until 5:00pm Tuesday & Friday.
Call now (973) 728-7788