Intensive Outpatient Program
Complete the form and a treatment advisor will contact you at the number provided.
By submitting this form, I am providing express written consent to contact me by SMS at the phone number provided.
Intensive Outpatient Treatment Program in New Jersey
Achieve Sobriety at New Life Recovery Center
At New Life Recovery Center, we understand how alcohol and drug addiction can take a toll on a person's life. Our addiction treatment specialists work closely with our clients. We provide them with the tools they need to achieve and maintain sobriety. 
Our intensive outpatient treatment program (IOP) is designed for those who live independently, with their families, or in a sober living environment. Contact us today to learn more about intensive outpatient treatment in Pompton Lakes.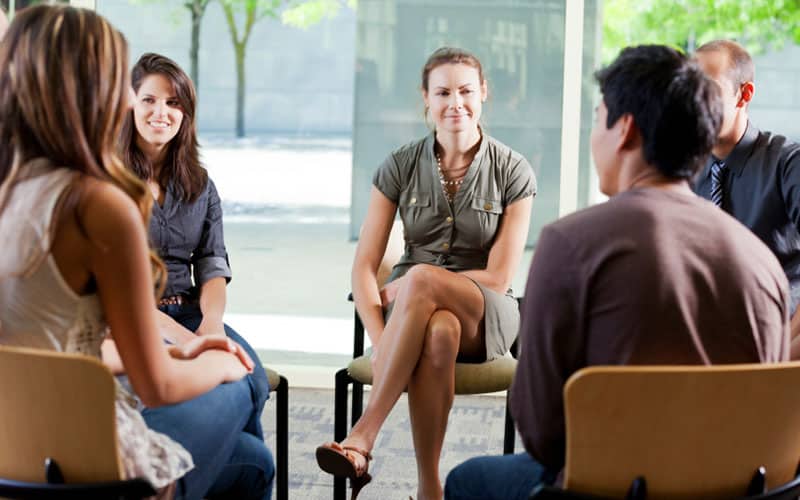 Get the Tools You Need to Maintain Your Sobriety
While less hours overall versus PHP, IOP has the same goals. Clients are educated as to why they use, triggers that lead them to use, tools to help them stop using. Counselors lead the group sessions. It is perfect for those who can't commit to a PHP program but who are still dedicated to getting their health and life back on track.
The Intensive Outpatient Program at New Life Center currently offers group sessions three times a week; Monday, Wednesday, & Thursday from  6:00pm – 9:00pm. 
Assuming you start your recovery at the Intensive Outpatient Program level you will be attending group three nights a week and you will have a regularly scheduled individual session with your addition counselor once a week. During your individual session you will work on your treatment plan, which will have your goals and keep track of your progress. That and you perform a Urine Drug Screen once a week as well. IOP Programs are sixteen weeks long. In cases where you're doing extremely well, step down to Outpatient Program can happen sooner. Vice versa in cases where there may be a relapse. Once in the Outpatient Program or having started in Outpatient Program, the length of treatment is typically a month or less depending on your specific recovery treatment needs.    
Whether Opioids, Alcohol, Cocaine, Prescriptions, Methanphetanine  or any addictive substances, once you graduate from New Life Recovery Center you will have the tools and knowledge to help you maintain your sobriety. You will be well on the road of recovery and conquering addiction. Additionally, we have an alumni program that meets monthly for addiction recovery peer support in addition to or in lieu of Narcotics Anonymous and Alcoholics Anonymous. Take the first step now on your road to recovery. We are here to help you reclaim your life from substance use and live free from addiction.
Step Two: We Schedule Your Intake Assessment
We'll work quickly to schedule your substance use disorder treatment intake assessment. Our counselors will determine what program is best suited for your needs. 
Step Three: Work Toward Recovery
You'll get on the path toward sobriety with our intensive outpatient treatment program. 
Hear What Our Clients Have to Say
"Counselors are top notch. Very knowledgeable in every aspect of the disease of additions. Saved my life. Left with a great understanding of how to combat my disease. Can't sat enough good things about them."
Jerry
Learn More About New Life Recovery Center
New Life Recovery Center is an intensive outpatient rehab facility in Montville, NJ. Our counselors customize our addiction treatment plans to address our client's needs. We aim to provide our clients and their families with healing and recovery. 
In our intensive outpatient program, we help our clients achieve and maintain sobriety. We offer an alumni program that meets once a month for additional support. We strive to help our clients to reclaim their lives and live free from addiction. 
Overcome Your Addiction With the Help of New Life Recovery Center
There are a lot of treatment options out there, when New Life is the "intensive outpatient program near me."  You can rest assured that since 1991 our intensive outpatient treatment program has been helping individuals and families achieve sobriety. Contact us today to learn more. 
Your New Life to Recovery is Only a Step a Way
Most Insurances and Medicaid Accepted!
We accept most major insurance carriers. If we don't accept your insurance, we will refer you to another provider who does.
Get the help you need now from our experienced
professional counselors. Call us from 9:00am until 9:00pm Monday, Wednesday & Thursday or
9:00am until 5:00pm Tuesday & Friday.
Call now (973) 728-7788