Complete the form and a treatment advisor will contact you at the number provided.
By submitting this form, I am providing express written consent to contact me by SMS at the phone number provided.
Three Higher Levels of Care for Addiction Treatment
New Life Recovery Offers Intensive Outpatient and Outpatient Treatment Programs. When a higher level of care such as  Detox Treatment, In-Patient Treatment, and Partial Hospitalization Treatments are needed to Help You Overcome Alcohol Addiction we are able to refer you to the appropriate facility.
Get on the Path to Sobriety With One of Our Addiction Programs
Choosing to overcome your addiction can be a difficult decision. Our counselors and staff members at New Life Recovery Center are here to help. We'll guide you toward recovery, providing you with the necessary tools and resources. 
Your addiction treatment program will start with a substance use disorder treatment intake assessment. During your evaluation, your counselor will determine which treatment program is best for you. You'll then get placed in a treatment program to help you overcome your drug or alcohol addiction.
We offer IOP and OP  and when one of the Higher Levels New Jersey of care is needed we are able to refer you to well-established programs for more intensive help. Contact us today to schedule your assessment.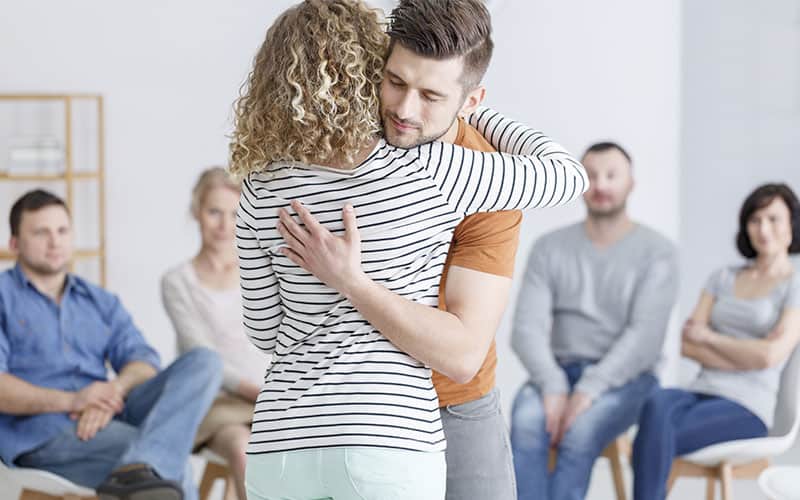 Find a Treatment Program That'll Help You Succeed
Detox
In-Patient
Partial Hospitalization (PHP)/Sober Living
Detox is needed in cases where there is excessive use and suddenly stopping may present health risks. There are both inpatient and ambulatory detoxification programs. Inpatient would be for severe cases and ambulatory works for those who are in better physical shape. Detoxification consists of being supervised by a physician and medications being prescribed to help with discomfort if needed. By vital signs being monitored, adverse reactions to no longer using can be avoided or treated professionally before it's life threatening.
In Patient treatment programs typically last thirty days but they can be shorter or longer depending on need. While in the program, patients receive five hours of substance use disorder treatment therapy, five days a week. Additionally they will meet with an individual counselor at least once a week. One of the main benefits of In Patient treatment is the chance for the patient to reset. One of the most challenging aspects of recovery is people, places and things. By being in a new environment without temptation, the patient has a better chance at achieving and maintaining sobriety.
Partial Hospitalization (PHP) Treatment
Partial Hospitalization (PHP) is the same amount of hours or counseling weekly as inpatient. The difference is instead of sleeping on site, the client is living at home or stays at a sober living home sponsored by the PHP program. Additionally they will meet with a counselor for an individual session once a week. The goal of PHP as with In Patient is to immerse the patient in treatment. By taking the time to focus the patient solely on their sobriety and health, dramatic improvements are possible in a short amount of time.
Step Two: Come in for Your Assessment
You will complete a intake assessment interview, complete and sign paperwork and perform a urine drug screen. The results of which will determine the level of care best suited to your needs.
Step Three: Start Recovering
You will begin meeting with your counselor weekly and attending group sessions for your level of care. 
Hear What Our Clients Have to Say
"New life provides a great program that encourages openness and growth in a safe environment. Elisa is a wonderful counselor who is easy to connect with and has invaluable, real-world experience. Highly recommended!"
Ernie  
New Life Recovery Center Can Help You Achieve Sobriety
New Life Recovery Center is an addiction rehab facility in Pompton Lakes, NJ. We help our clients overcome their addictions to drugs and alcohol. They can achieve freedom from substance use while regaining their lives. 
Reach Out to Us Today to Start Recovering
Are you ready to start on the path to recovery? Contact us today to learn more about our addiction treatment programs in Pompton Lakes, New Jersey. 
Your New Life to Recovery is Only a Step a Way
Most Insurances and Medicaid Accepted!
We accept most major insurance carriers. If we don't accept your insurance, we will refer you to another provider who does.
Get the help you need now from our experienced
professional counselors. Call us from 9:00am until 9:00pm Monday, Wednesday & Thursday or
9:00am until 5:00pm Tuesday & Friday.
Call now (973) 728-7788