Complete the form and a treatment advisor will contact you at the number provided.
By submitting this form, I am providing express written consent to contact me by SMS at the phone number provided.
Achieve Sobriety With Our Outpatient Treatment Program (OP)
Overcome Your Addiction to Drugs or Alcohol With Our Outpatient Program in Montville, New Jersey
Fight Addiction With the Help of Our Counselors
At New Life Recovery Center, we understand that recovery isn't something that happens overnight. You need the support and help of your peers and trained professionals.
Our outpatient program provides our clients with the necessary addiction treatment. Whatever your situation is, we're here to help. Contact us today to learn more about our outpatient treatment program in Montville.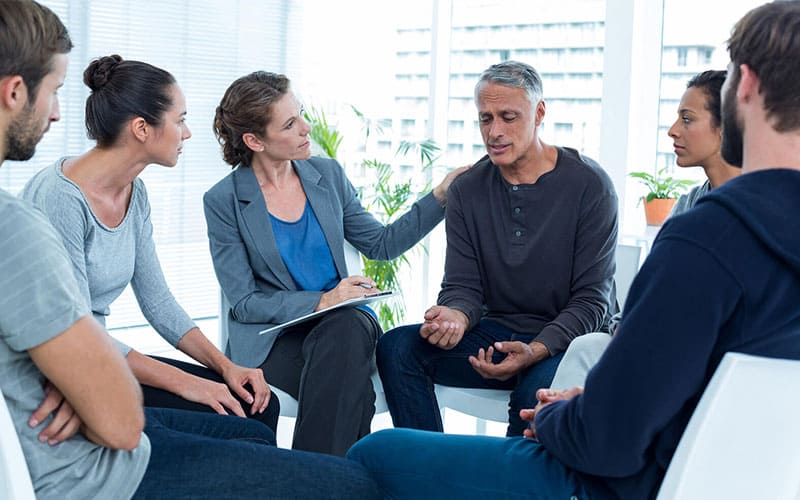 Live Your Life While Recovering From Addiction
Outpatient Program Treatment is the least acute level of care. It can be as little as one individual therapy session a week or as much as two groups and an individual session a week. OP group sessions are ninety minutes versus three hours for IOP. People who choose the outpatient program do so for a variety of reasons. They have a demanding  job or a personal schedule and cannot attend the ten hours weekly for IOP.  Others may need the outpatient program when they are transitioning out of an inpatient program in order to provide structure and support. Outpatient treatment programs are beneficial for people with mild to moderate symptoms who have a strong support system at home. This group is less intensive and is designed to ensure a clients' ongoing recovery and to ensure they achieve their recovery goals. While in this group the client continues to work on problems and issues in their day-to-day life that may arise and affect their behaviors and personal growth which can jeopardize recovery.
Outpatient treatment for addiction is unlike Alcoholics Anonymous and Narcotics Anonymous, which are peer support groups and excellent for the role they play, Outpatient Treatment however is led by a counselor. Once a client finishes treatment with us they are strongly encouraged to continue on with AA or NA to have that peer support. While in Outpatient treatment, the countelors goal is educate and increase the clients understanding of addiction to have the tools to succeed in recovery.
These are then supplemented by educational presentations and exercises concerning the major aspects of the addictive illness. The objective of outpatient level of treatment is to have the client move toward accepting their addictive illness, therefore, enhancing their motivation for recovery and demonstrating ongoing abstinence from alcohol and drugs.
Step Two: Substance Use Disorder Assessment
During your assessment, we'll evaluate which treatment programs are best for you. 
Step Three: Work Toward Recovery
Start your journey toward sobriety with the help of our counselors. 
Hear What Our Clients Have to Say
"New life provides a great program that encourages openness and growth in a safe environment. Elisa is a wonderful counselor who is easy to connect with and has invaluable, real-world experience. Highly recommended!"
Ernie  
New Life Recovery Center Is Here to Support You
New Life Recovery Center is located in MOntville, New Jersey. Our outpatient treatment program helps our clients accept their addictions. Once they've achieved acceptance, they're motivated to work toward sobriety. 
Our counselors provide support to our clients through every step of the program. They're available to give you as much help as you need. We have a treatment option for every client, no matter how mild or severe their symptoms are. 
Learn More About Our Outpatient Treatment Program in New Jersey
Whether you're interested in our outpatient alcohol program or outpatient drug rehab program, we're here to help. Contact us today to learn more about our outpatient treatment programs in Montville. 
Your New Life to Recovery is Only a Step a Way
Most Insurances and Medicaid Accepted!
We accept most major insurance carriers. If we don't accept your insurance, we will refer you to another provider who does.
Get the help you need now from our experienced
professional counselors. Call us from 9:00am until 9:00pm Monday, Wednesday & Thursday or
9:00am until 5:00pm Tuesday & Friday.
Call now (973) 728-7788